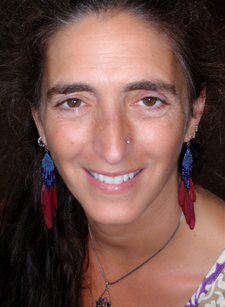 Andrea DeSharone is a mother, a mystic, a teacher, a healer and counselor. These roles have been expressed throughout her entire life in her relationships with family, friends, students and clients. Coming from a large family, she is the eldest of six children. At the age of 17 she moved, on her own, to Israel where she lived on a kibbutz and studied for 8 years. Andrea is fluent in Hebrew and has returned to Israel many times since to visit and teach. Her undergraduate work was in Art Education and Special Education. The Arts have always been a central focus. Andrea has studied and exhibited her photography in the US and Israel. She also spent years studying ceramics. Andrea began dancing early in life with some tap and ballet lessons, in high school she studied Martha Graham technique of modern dance and Israeli Folkdance. During her years living in Israel, Andrea began to blend dance and movement and visual arts into her work with Special Needs children. Andrea has continued to dance exploring the world of Improvisational Dance, African Dance and Drumming. Upon returning from Israel, Andrea entered the Graduate Program of Expressive Therapies with a Specialization in
Dance/Movement Therapy
at Lesley College. She has been in Private Practice since graduating in 1987.
Andrea has worked extensively with special needs children and their families. Andrea specializes in the Autism Spectrum; having grown up with an autistic brother and then started a program for Movement Therapy at the former Language and Cognitive Development Center in Jamaica Plain. She currently runs a
Movement/Music Group for Autistic Adults
and their caregivers. Andrea also specializes in
Eating Disorders
and Body Image issues and has done this work with individuals and groups since 1986 as well. Andrea currently does therapy for individuals,
couple therapy
and group therapy for a myriad of issues including
trauma
, sexual abuse,
marriage counseling
, life transitions, birth, parenting, midlife, death and loss.
Andrea began studying Kabbalah, Jewish mysticism, in the late 1970's and has continued her studies until this day, now incorporating
Kabbalistic Healing
into her practice.
Over the years the study of
Couples Therapy
, Sex Therapy, Psychodrama, Bodywork,
Breathwork
, Energy Healing,
Trager Movement Education
,
Craniosacral Therapy
,
Infant Massage
,
Trauma Therapy
and
EMDR
, Thought Field Therapy,
Kundalini Yoga
, Meditation and
Herbs
all enhanced the depth and breadth of her practice.
Andrea was invited to return to Lesley College (now Lesley University), as a instructor in their Israeli Program where she taught Expressive Therapy courses in Cambridge and Israel . She coordinated the Dance Therapy Specialization of the Graduate Program in Expressive Therapies for several years. She currently teaches two graduate courses, in an intensive format, as Adjunct Faculty for Lesley. Andrea has had her private practice, A Safe Place in Concord, serving individuals,
couples
and families in the Metrowest Boston area since 1991.
Contact Andrea by phone at 978-371-1976 or by email andrea@luminosityhealing.com